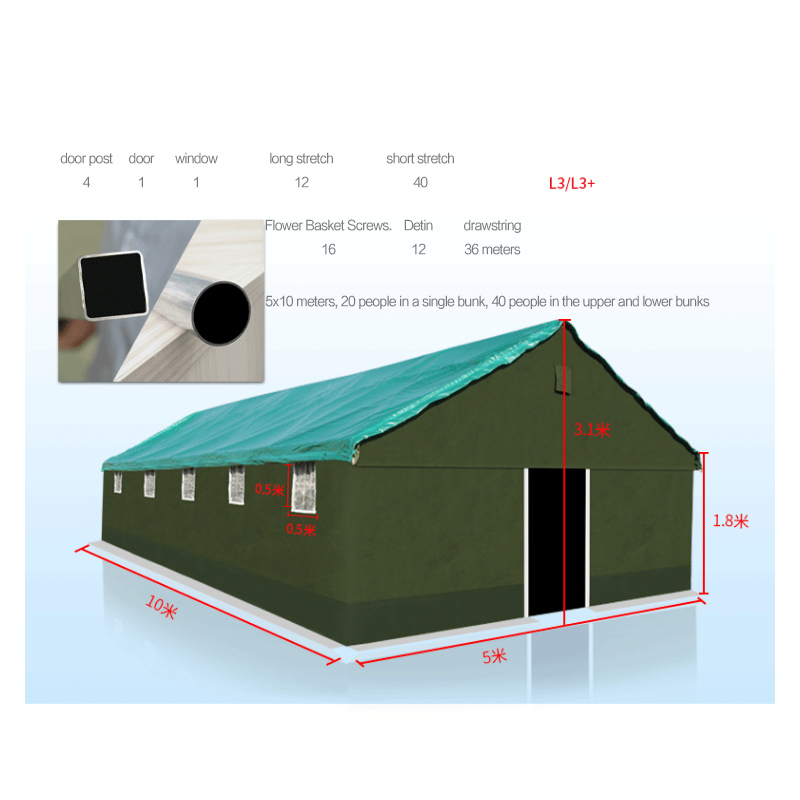 Civilian tent commonly known as: canvas tent, cotton tent, engineering tent, civilian tent, mobile tent, general military tent. It can be used for field long and short-term accommodation; Short-term residence at the site; Field exploration and engineering residence.
Tents can be divided into tourism tents, disaster relief tents, advertising tents, car tents, military tents and so on. Tent fabrics for polyester taff, nylon waterproof cloth, PVC waterproof Oxford cloth and membrane materials. Dacron industrial silk or dacron staple fiber is generally used as raw material, woven into the fabric, according to different requirements for finishing. Such as PVC or polyurethane coating, silicone impregnation finishing, awning is required to resist ultraviolet finishing. Generally, it is double-layer design, and the inner layer is composed of coating materials and PU strips. Tents generally have good functions of tensile resistance, rain proof and uv proof.
Sports mountaineering tent, outdoor leisure tent, advertising creative tent, add color to our life, to improve the quality of people's life service. In the future, tents will come into our daily life with more functions and uses.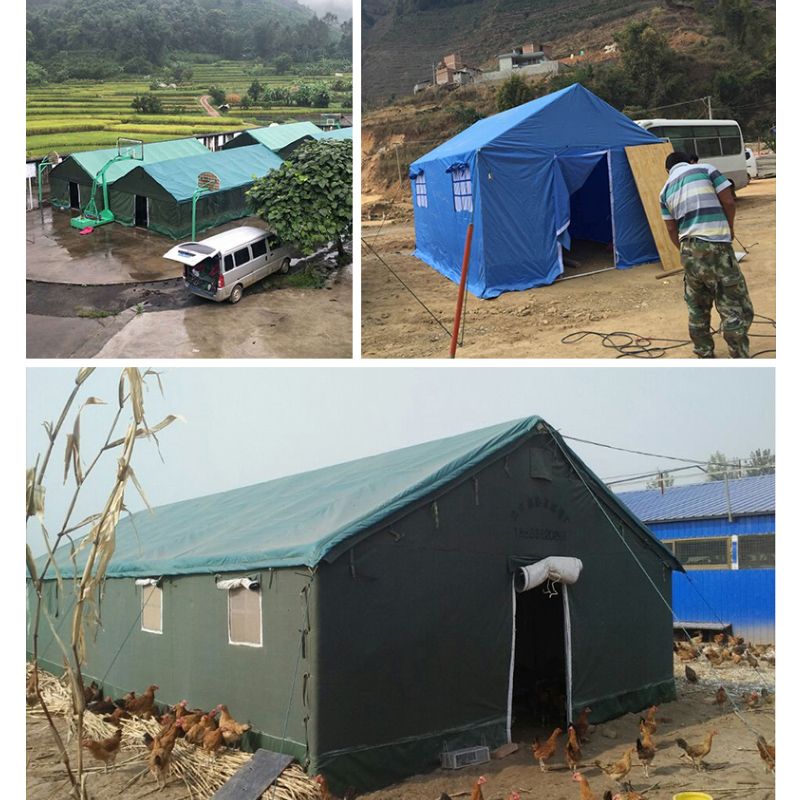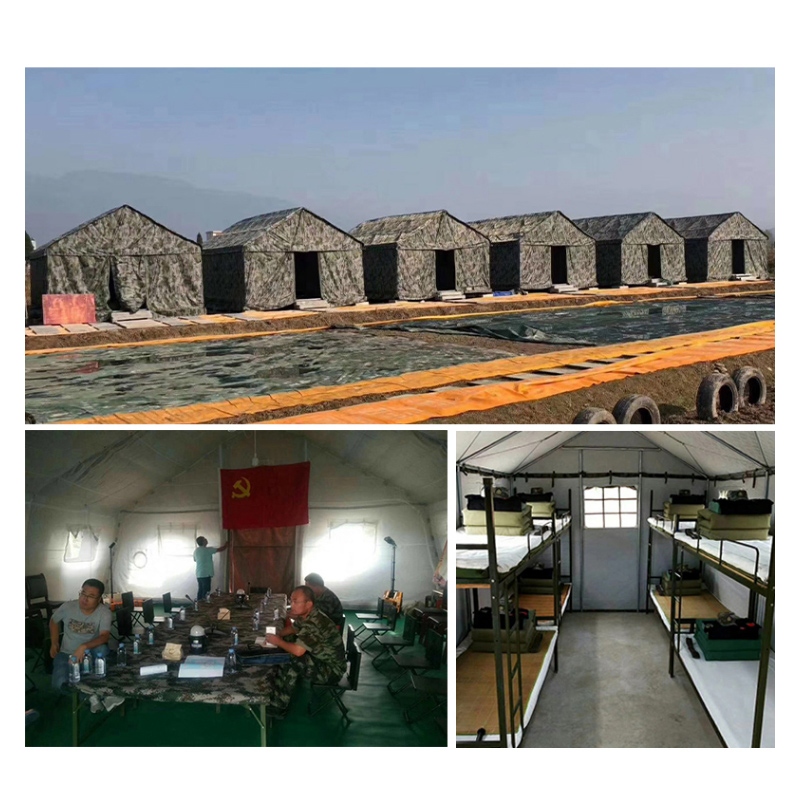 Civilian tent
(1) Tent specifications: common specifications 5X8 5X6 5X4 3X4
(2) The tent is reasonable in structure, safe and reliable in use, and can bear the load of force 8 wind and 8cm thick snow at the same time.
(3) The tent adopts steel frame structure, simple structure, convenient exhibition and collection, about 20 minutes /4 people can set up or withdraw.
(4) Tent (cloth bag + steel frame in total two pieces), packing volume 0.8 cubic meters, all parts and components are packed in the cloth bag, the shape is regular, easy to carry with the car long distance or manpower short distance transportation.
(5) The top of the tent is made of military green cloth, and the gables and walls are made of military green cattle canvas (warm in winter and cool in summer). The middle is made of felt and lined with white cloth. The workmanship is based on the standard of military tent. The window is provided with gauze mesh, with mosquito prevention, ventilation and other functions.
(6) With waterproof, mildew-proof function, and has the characteristics of light material, high tensile strength, acid and alkali resistance, high temperature resistance, convenient washing and folding. Tent roof should avoid collision with sharp metal instruments in the process of use. If there is damage in use, it can be repaired with glue solution.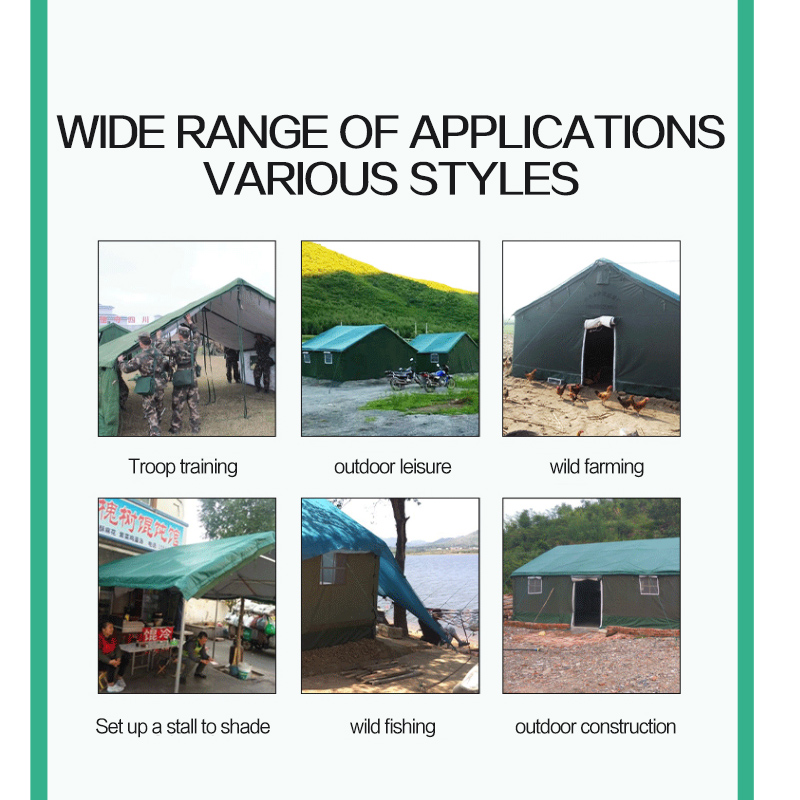 Chengdu Qianyue Canvas Products Co., Ltd. was established in September 2003, located in Chengdu, Sichuan Province, China, engaged in all kinds of canvas, tarps, gauze, needle textiles, air duct cloth and products. The main sales include disaster relief tents, civilian tents, medical tents, cooking tents, fire tents, command tents and other products, a wide variety, the company is committed to providing high-quality, safe and durable tent products for enterprises and institutions at home and abroad and the masses. The company's product supply is sufficient, variety, quality, large purchase more preferential, fast supply, perfect after-sales, reasonable price. Welcome to order.
Contact Person:Yonglan Lou
Telephone:+86 18980716849
Email:ammaraholiva@gmail.com