NNB Nutrition's GlucoVantage®, which is called Dihydroberberine (DHB), has obtained self-affirmed GRAS status, NNB demonstrated that DHB is safe and useful in added doses in food and beverages. Meaning that DHB can be considered safe for the intended uses in food and beverage, including nutrition bars and nutrition beverages such as energy drinks or milk-based beverages. DHB also has been thoroughly characterized and is free of allergens, pesticides, and other toxic contaminants.
In the independent conclusion of GRAS Status for DHB, The GRAS Panel considered the preclinical toxicity studies and the human clinical trial to be the key information supporting the conclusion that DHB would not be expected to produce adverse effects on human health under the conditions of intended use. Supporting evidence for the safety of DHB was obtained from the safety data on berberine. Based on the above data and information presented herein, NNB has concluded that the intended uses of DHB when used as an ingredient at a maximum use level of 55 g per bar per serving (300 mg/day) in nutrition/cereal bars, and up to 325 mL per drink per serving (300 mg/day) in nutrition beverages is GRAS based on scientific procedures. General recognition of NNB GRAS determination is supported by the unanimous consensus rendered by an independent GRAS Panel, qualified by experience and scientific training to evaluate the proposed uses of DHB. This declaration is made in accordance with FDA's standard for food ingredient safety.
GlucoVantage® is the first commercially available brand of Dihydroberberine (DHB), which is a patented active metabolite of berberine. Berberine has been shown to optimize blood sugar, improving insulin sensitivity and body composition. Dihydroberberine solves berberine's limitations of low bioavailability and GI distress. DHB is one of the 17 active metabolites of berberine, which is produced naturally in the body via a reduction process that occurs after ingestion of berberine by gut microbes. Dihydroberberine is then converted back to berberine after absorption by the intestines. Supplementation with dihydroberberine could therefore remove this rate-limiting step of microbial reduction and mitigate potential gastrointestinal distress that some experience with berberine supplementation. This GI distress is likely the result of poor absorption and or the microbial reduction process.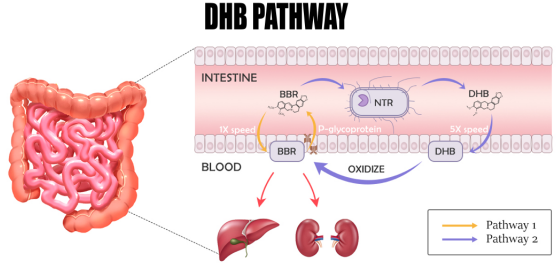 NNB GlucoVantage® Advantages
1. Less potential GI distress than berberine, reducing adiposity and improving insulin sensitivity at lower doses
2. Superiorly bioavailable form of berberine (up to 5x more effective)
"With our GRAS certification, we believe this powerful cutting-edge ingredient will be a huge hit in the dietary supplement industry." said Kylin, the founder of NNB Nutrition.
About NNB
NNB is the leading ingredient-driven biotech company employing over 100 research scientists from more than 10 countries who study, design, and deliver unique ingredients to the industry to maximize health, augment performance, expand longevity and enhance appearance. NNB fosters partnerships with companies in the fields of nutraceuticals, pharmaceuticals, and medical research.
Contact NNB
Company: Nanjing Nutrabuilding Bio-tech Co., LTD. (NNB Nutrition)
Contact Person: Amanda Email:amanda@nnbnutrition.com
Website: https://www.nnbnutrition.com/
Telephone: +86-25 5881 2792
Location: No. 270 Jiqingmen Street, Suning Huigu, Building E6, Room 2105 Nanjing, China 210017